"I smell snow." This is one of Lorelai Gilmore's most popular catchphrases on Gilmore Girls. The show is known for its backdrop (albeit on a set) of well-defined New England seasons. Winter is one of the show's finest times of the year. Everyone is bundled up, building snowmen and hanging lights for carnivals. It's a sight to behold! Even to people who live in colder climates, the snow looks pretty convincing, and it affects the characters' lives in many ways.
During winter, Lorelai's world becomes the center of focus, and things are either as perfect and beautiful as the year's first snowfall or as disastrous as an icy road.
Updated on December 20th by Meagan Bojarski: There has been recent speculation that another season of A Year in the Life episodes is going to be added to the Gilmore Girls canon. Though fans disliked the lack of character growth between the final season and the revival, a second season could fix the mistakes of its predecessor and return the series to the heartfelt drama it originally was. But one thing they absolutely should not lose is the emphasis on the seasons, which resonated well with fans and highlighted the magic of Stars Hollow, its many festivals, and the connection between love and snow.
Love And War And Snow
Season 1, Episode 8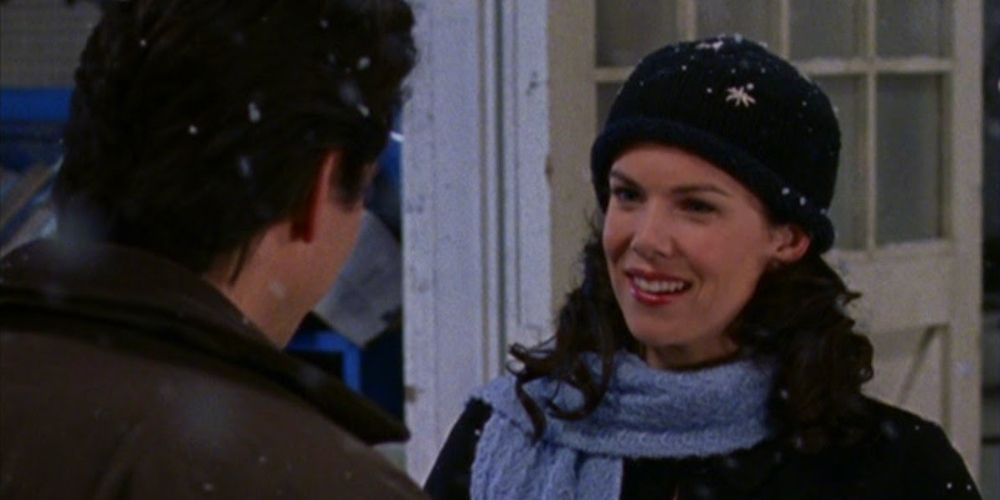 "Love and War and Snow" is the first big snow episode of the series, which makes it an essential winter episode. Lorelai shares her philosophy that good things happen in her life when the snow comes down, and in this episode, she isn't wrong.
RELATED: 10 Most Popular Gilmore Girls Ships, Ranked By AO3
She and Max Medina have a magical evening while Rory is snowed in at Richard and Emily's house in Hartford. Unfortunately, Lorelai and Rory's happiness comes with pain for Luke and Lane, who feel left out by the Gilmore girls' new relationships. As the beauty of winter begins, so does the iciness of abandoned relationships.
Rory's Dance
Season 1, Episode 9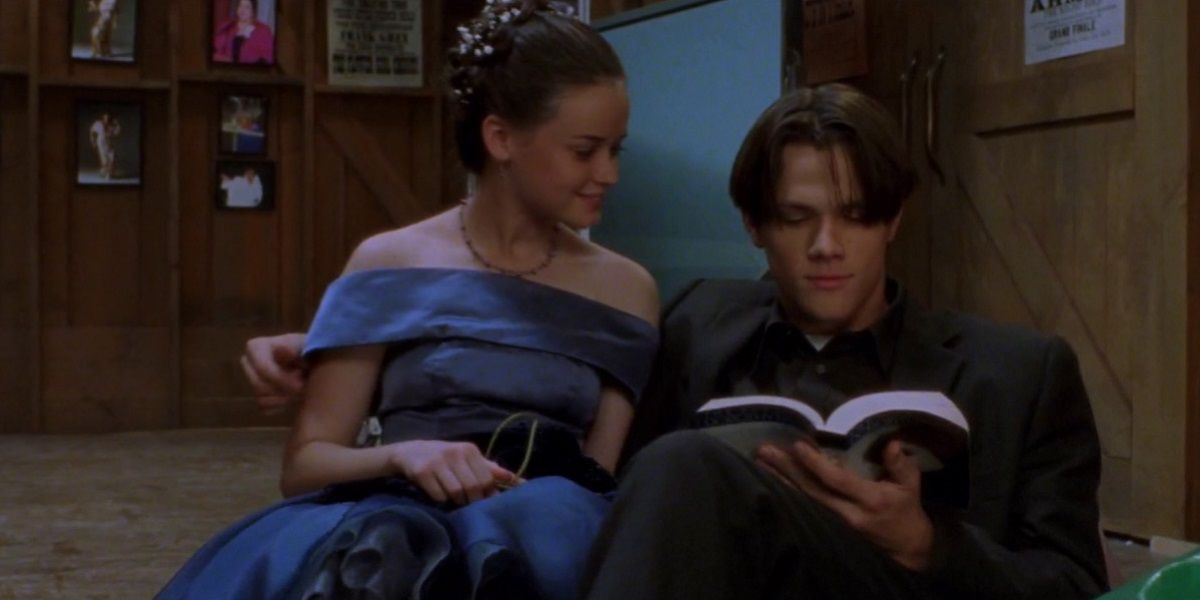 While "Love and War and Snow" showed how much good can happen to Lorelai at the start of winter, things get progressively more complicated as the season goes on. Rory doesn't really fit in at Chilton yet, and Dean certainly doesn't, which makes a formal dance into a nightmare.
The natural beauty of Stars Hollow conflicts with the formality of Chilton's ball, and it's easy to understand why Rory would cling to the comforts of her home. But as Rory tries to stick with what's comfortable, it causes conflict between Lorelai and Emily, making it next to impossible for the family to really enjoy what should be a celebratory occasion.
Forgiveness And Stuff
Season 1, Episode 10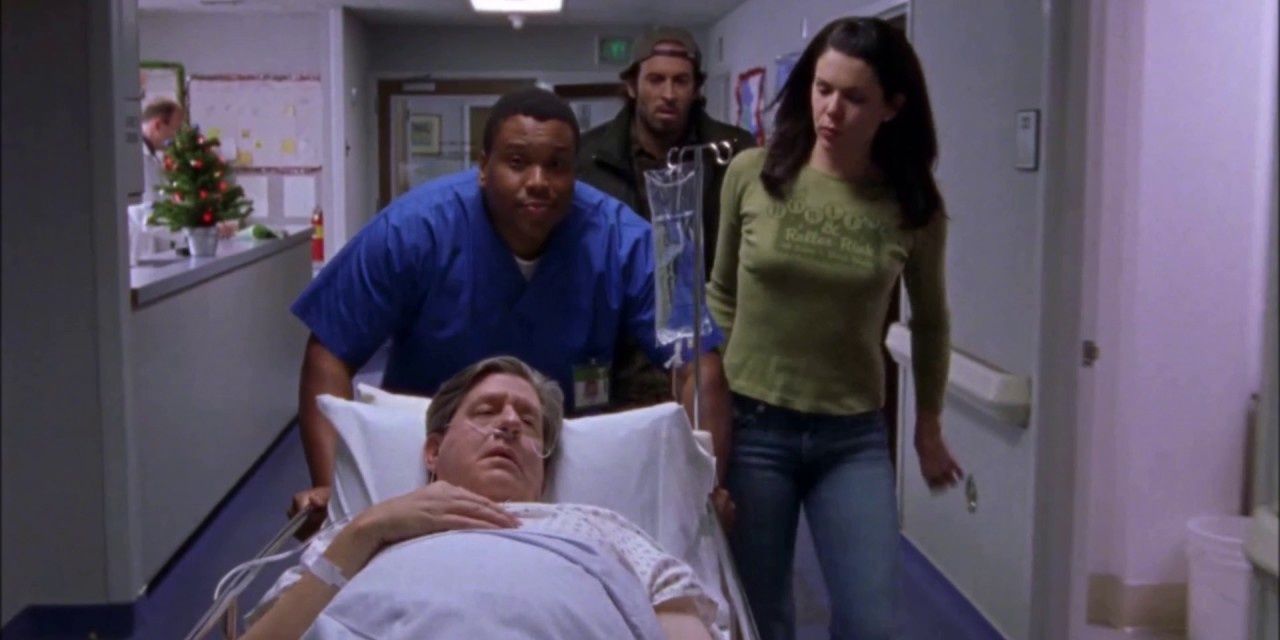 It wouldn't be Gilmore Girls if there wasn't some maternal tension, and this episode delivered, with Lorelai struggling to connect with both her mother and daughter. They all snipe at each other for a while, only for a crisis to make them come together. Richard had a heart attack, and no drama would keep that from mattering.
Many families fight throughout the year only to gather for the holidays, so it works well that Emily didn't invite Lorelai to their Christmas party, forcing something even bigger to pull them together. Winter often represents death and illness, but it can also prompt reflection and quiet, two elements that worked perfectly in this episode. The aesthetic is perfect for winter, and the emotional depth is on par with classic Christmas tales like It's A Wonderful Life.
The Bracebridge Dinner
Season 2, Episode 10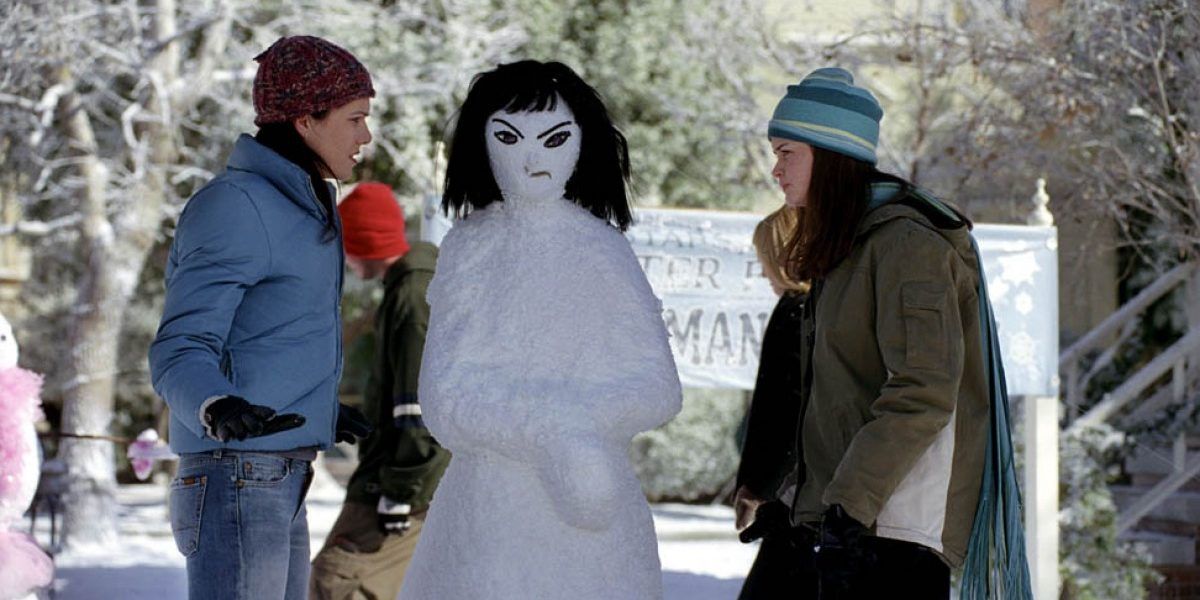 Who would put together a snowman in the likeness of Björk (an Icelandic singer-songwriter) but Rory and Lorelai Gilmore? This episode has everything a snow lover could want. A snowman contest, horse-drawn carriage rides, and a cozy dinner with friends and family.
The Independence Inn's clientele get stuck in Chicago and can't weather the trip to Stars Hollow for their dinner. The Bracebridge dinner transforms into a divine gathering for Stars Hollow's residents as well as Richard, Emily, and Paris. It's not an episode to miss and has a way of inspiring anyone with wintry feelings.
Secrets And Loans
Season 2, Episode 11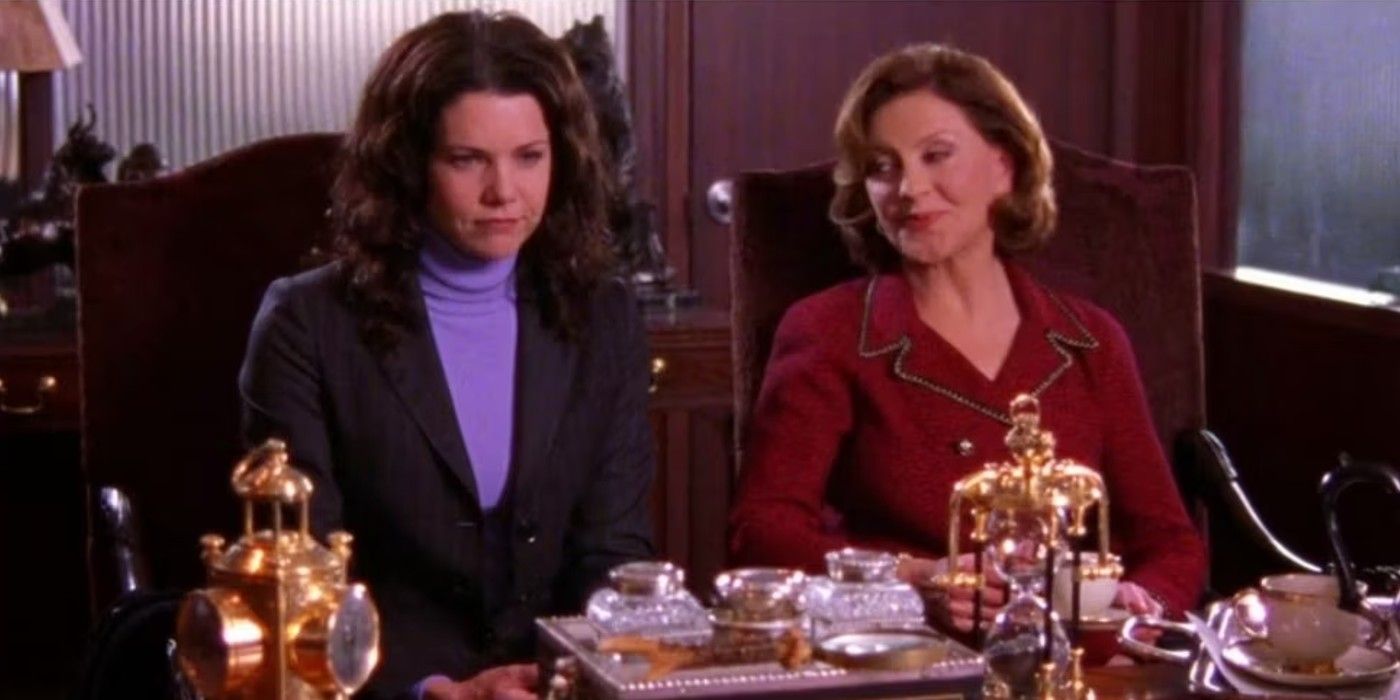 Shortly after her snowed-in celebratory dinner, Lorelai gets up with plans to sniff her snow and enjoy the wintry blanket. She's in for a surprise when her foot goes right through the wood on her porch. Kirk comes over to assess the situation and tells Lorelai that termites have cost her fifteen thousand dollars worth of damage.
RELATED: 14 Things Only Die-Hard Fans Know About Gilmore Girls
Despite the glorious winter weather, Lorelai has to worry about coming up with this money that she desperately wants to avoid borrowing from her parents. Rory disobeys her mom and explains the situation to Emily, who insists on helping. "Secrets and Loans" is not only a great seasonal episode, but it's also a taste of Rory and Lorelai in a bad fight.
That'll Do, Pig
Season 3, Episode 10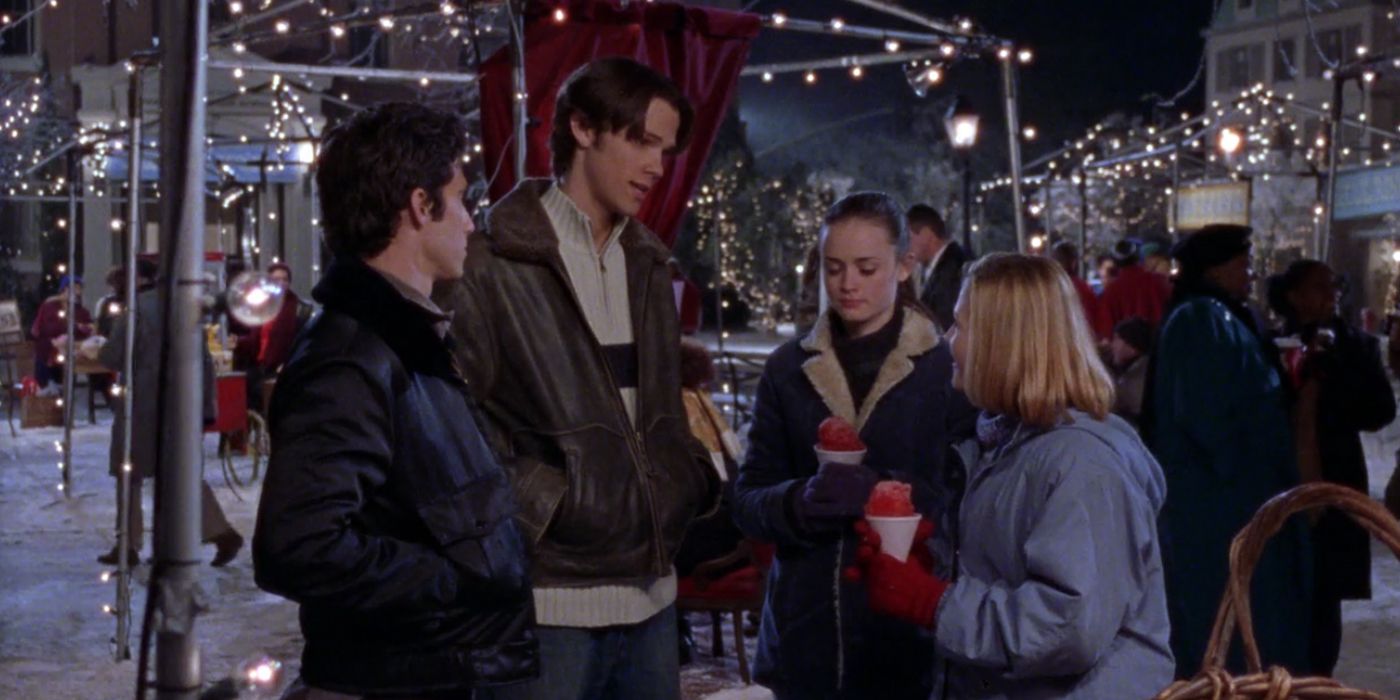 "That'll Do, Pig" asks whether Dean and Rory can be friends while Rory dates Jess. Between daylight and evening footage, this Winter Carnival event is easily one of the snowiest episodes of all. It might as well be a Hallmark movie with all the romance, drama, and gorgeous scenery.
Jess and Rory are constantly kissing each other as they saunter about the town, but Jess doesn't care about taking Rory to the carnival—that is, until Rory and Dean have a little chat in which they agree to be friends. Dean shows up at the Winter Carnival with his sister, which changes Jess's mind really quickly. Suddenly, he's all in on the small-town winter shenanigans.
In The Clamor And The Clangor
Season 4, Episode 11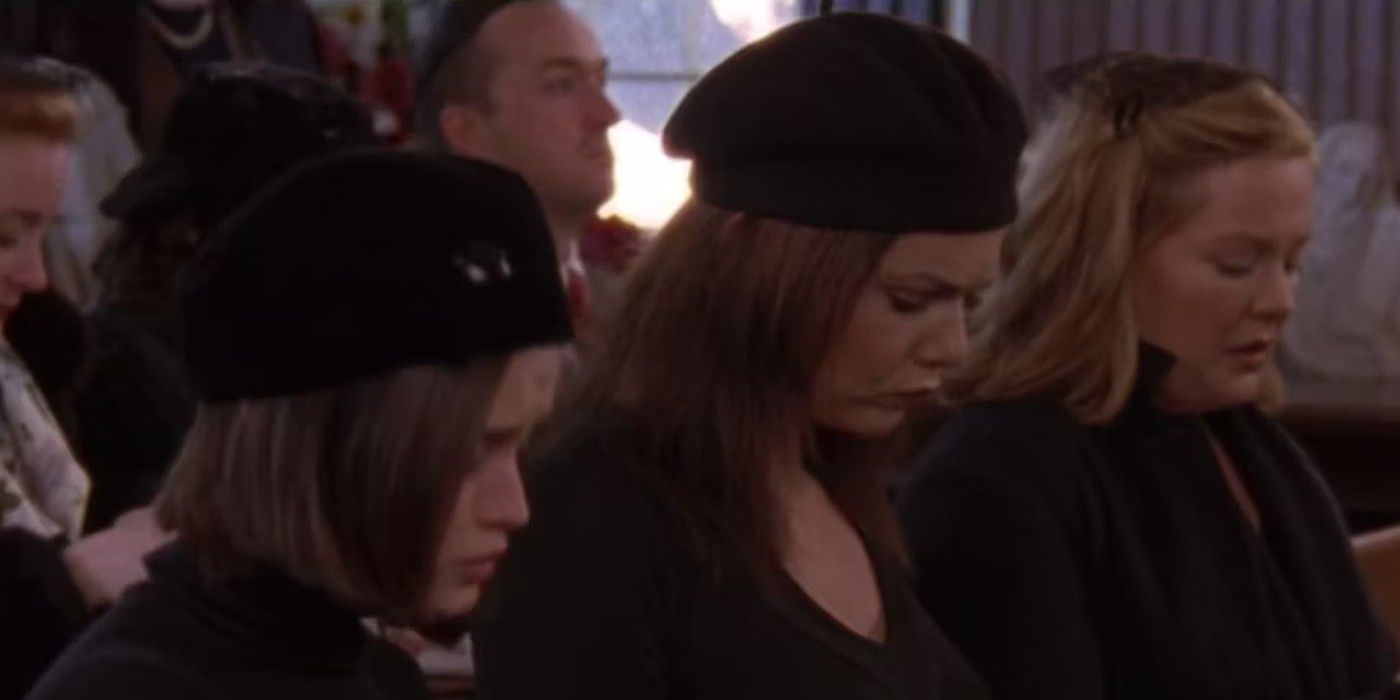 This episode features the infamous church bell that Luke and Lorelai eventually destroy. The town scenery in both the daytime and the evening has all those twinkly light touches that fans know and love.
The snowy landscape is the backdrop for a boy teasing Rory at Yale, and more importantly, Lane's mother finally discovers Lane's double life. This episode is pure chaos, but that can be just as much a part of winter festivities as the beauty and peace.
Women Of Questionable Morals
Season 5, Episode 11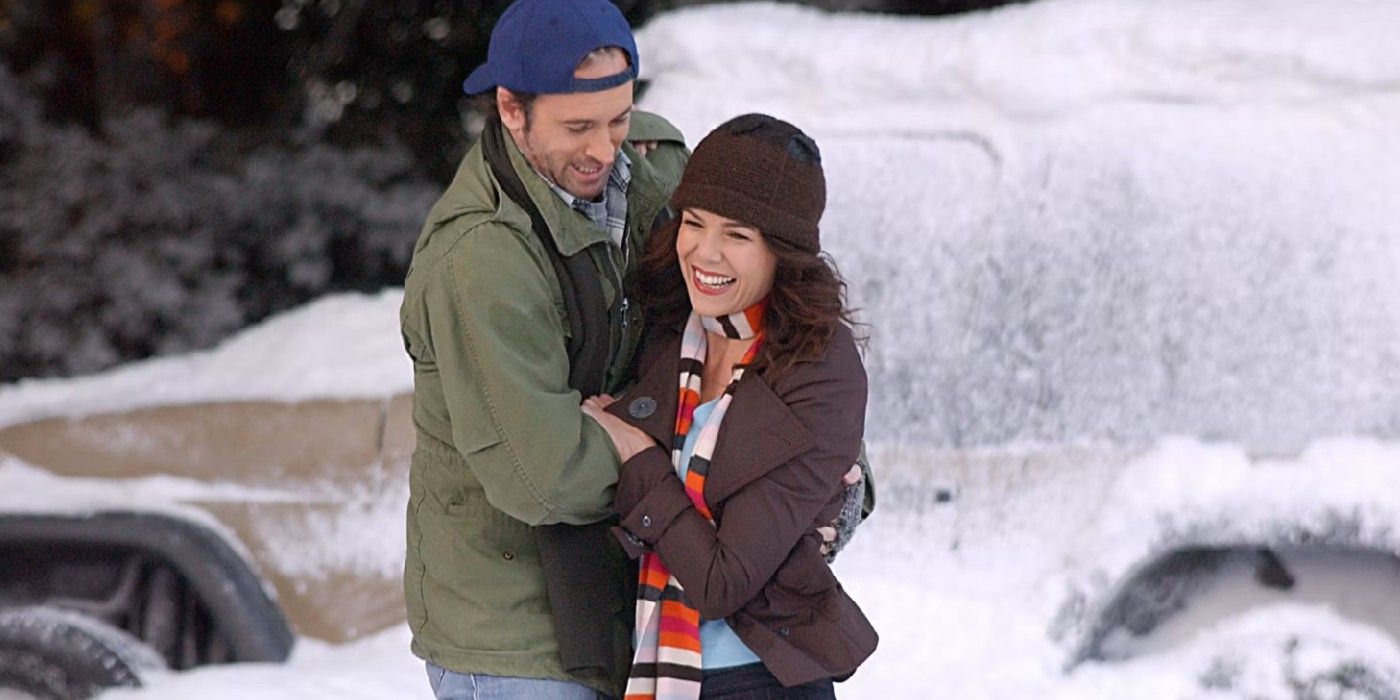 This episode is all about the twofold nature of snow. It is a dreamy wonderland and a daily nuisance all at once. At the beginning of the episode, Lorelai wakes Luke up, makes him smell the air, and drags him outside to see the snow. Luke is very cold. Once she gets to work at The Dragonfly, Lorelai is still singing snow's praises.
She changes her tune once cars are stuck in driveways and once she sticks her own foot right in a cold, sludgy puddle. These are problems New Englanders know all too well. On the bright side, Luke carves out an ice rink for Lorelai right in her front yard, and Emily and Richard have some fun with the Internet after they find a stray dog.
Come Home
Season 5, Episode 12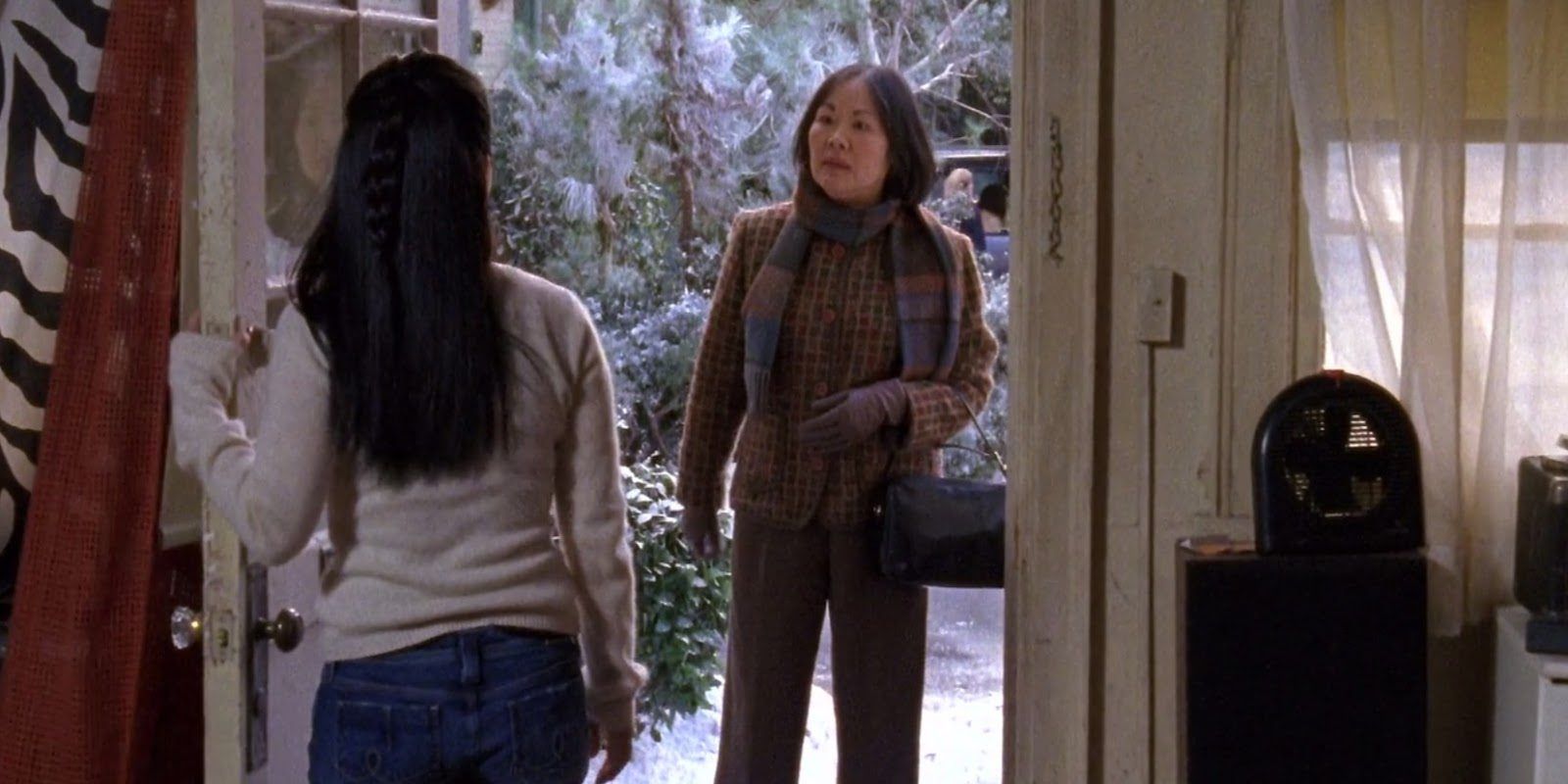 The fifth season is truly a sweet spot for winter vibes. "Come Home" is a perfect wintry mix. With the snow on the ground, Rory and Logan cozy up at a Yale hangout to get to know each other. Lane has a surprise exchange with Mrs. Kim, who invites her and the whole band over for Lunar New Year.
RELATED: Lorelai's 12 Most Questionable Life Choices In Gilmore Girls
The mother and daughter get a chance to spend a holiday together after a trying period, but it almost turns into another falling out. Meanwhile, Sookie hides away in a room at the inn to get some rest and relaxation while pregnant. Finally, Richard and Emily rekindle their romance and begin plans for their grand vow renewal.
The Perfect Dress
Season 6, Episode 11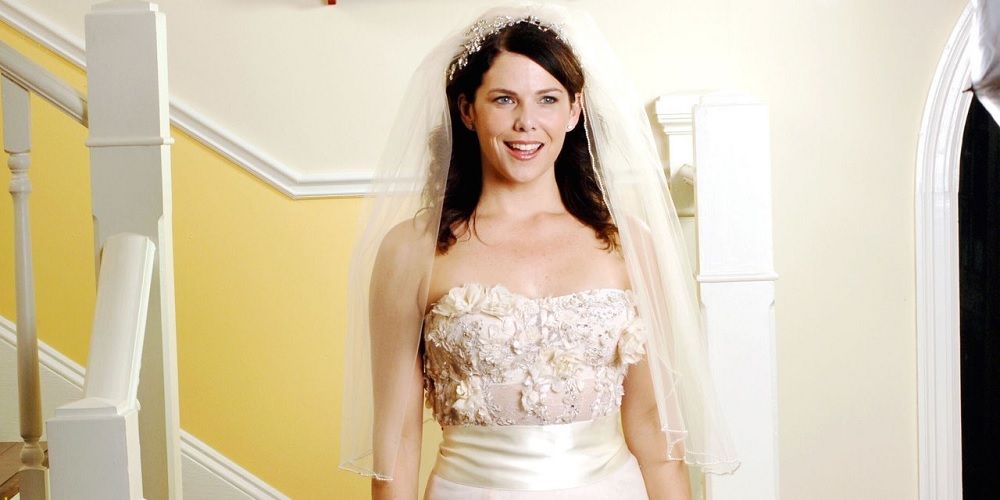 Everything is going too well in Gilmore Girls, which is naturally proof that it's all about to fall apart. Lorelai is completely overwhelmed by wedding planning, but when she tries to find proof that it really can be that easy, it starts to snow. For maybe the first time in the series, Lorelai is all in on her relationship, truly ready to take that leap.
Unfortunately, snow isn't magical for Luke unless he's with Lorelai, so while she's in her happy spot, with the perfect winter weather and everything about the wedding falling into place, Luke is pulling away. It's painful to see how oblivious Lorelai is to the changes that are coming, but this episode shows the transition from beauty to pain that can happen so quickly when it snows.
Just Like Gwen And Gavin
Season 6, Episode 12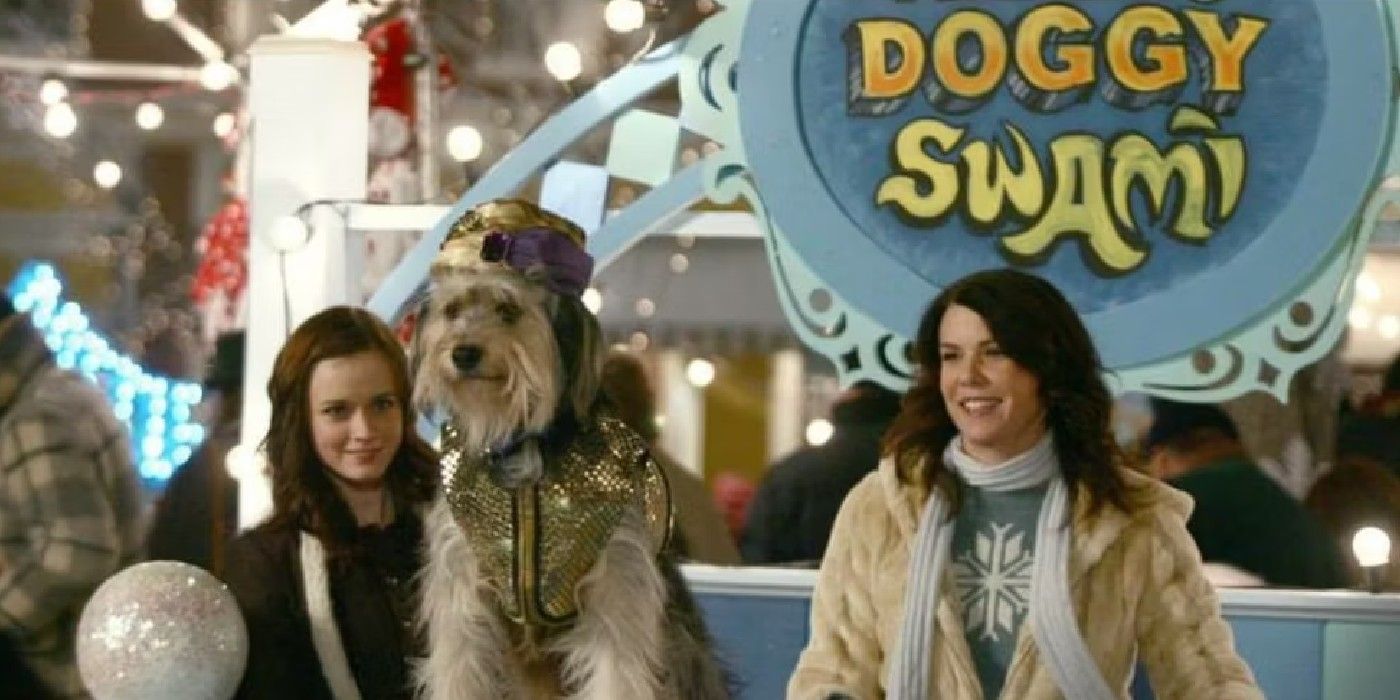 There's nothing like a Stars Hollow winter carnival. While Rory and Lorelai sort out their personal lives (Logan wants Rory back, and Lorelai finds out Luke has a daughter), the town prepares for a festive snowy evening. As much as they want to distract themselves with the festivities, that's easier said than done.
That being said, the episode is easily distracting for audience members, who are caught between chaos and beauty. Lane's suitors face off at Babette's bottle toss as Taylor disguises himself using an offensive German accent. "Everyone's a winner" at Mrs. Kim's booth. It's definitely a fun episode to capture every side of a Gilmore Girls winter.
Merry Fisticuffs
Season 7, Episode 10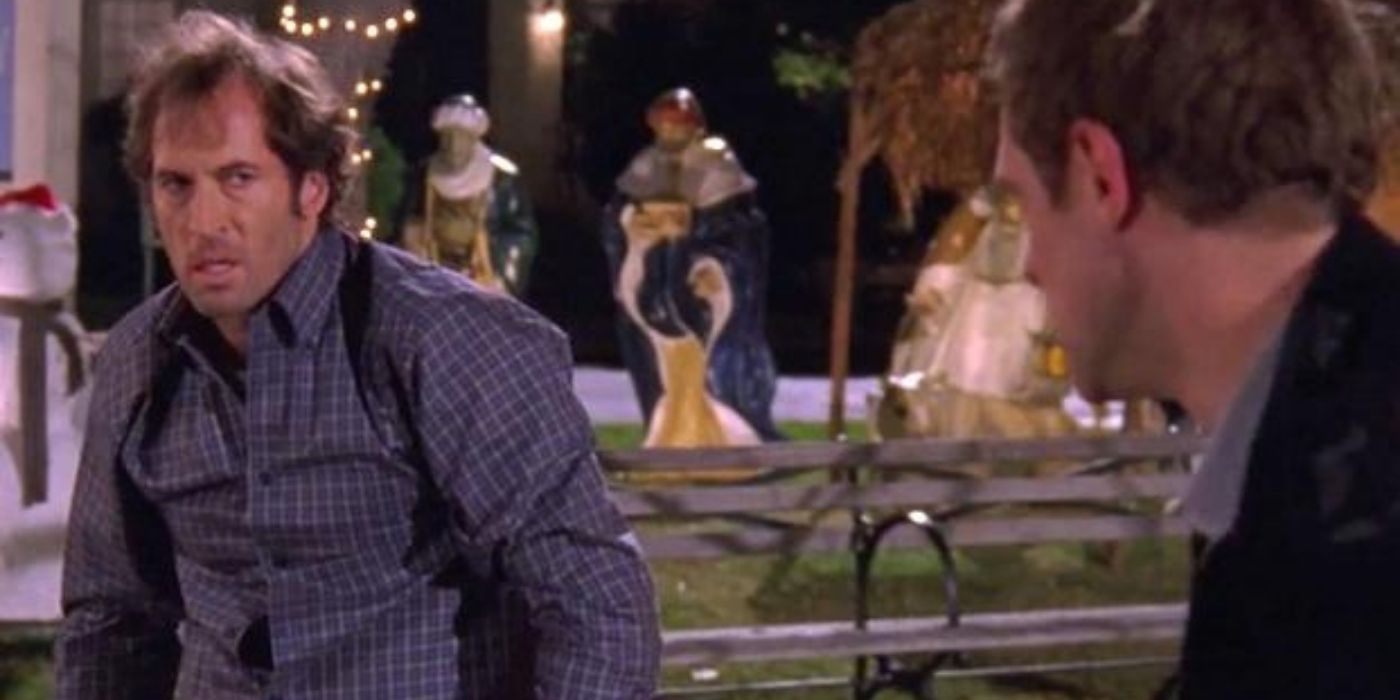 If anybody was thinking that Lorelai's relationship with Christopher would last longer this time than all the others, this episode was sent to prove them wrong. Despite Stars Hollow being decked out with Christmas decorations and everybody wearing warm clothing, there is no snow and Lorelai is not happy.
Christopher and Luke get into a fight that destroys all the town's decorations, and that's a pretty great description of the state of Lorelai's life. Everything that should be joyful is falling apart, and dressing it up with a fancy party or twinkling lights isn't going to make something work when it's so deeply broken.
Santa's Secret Stuff
Season 7, Episode 11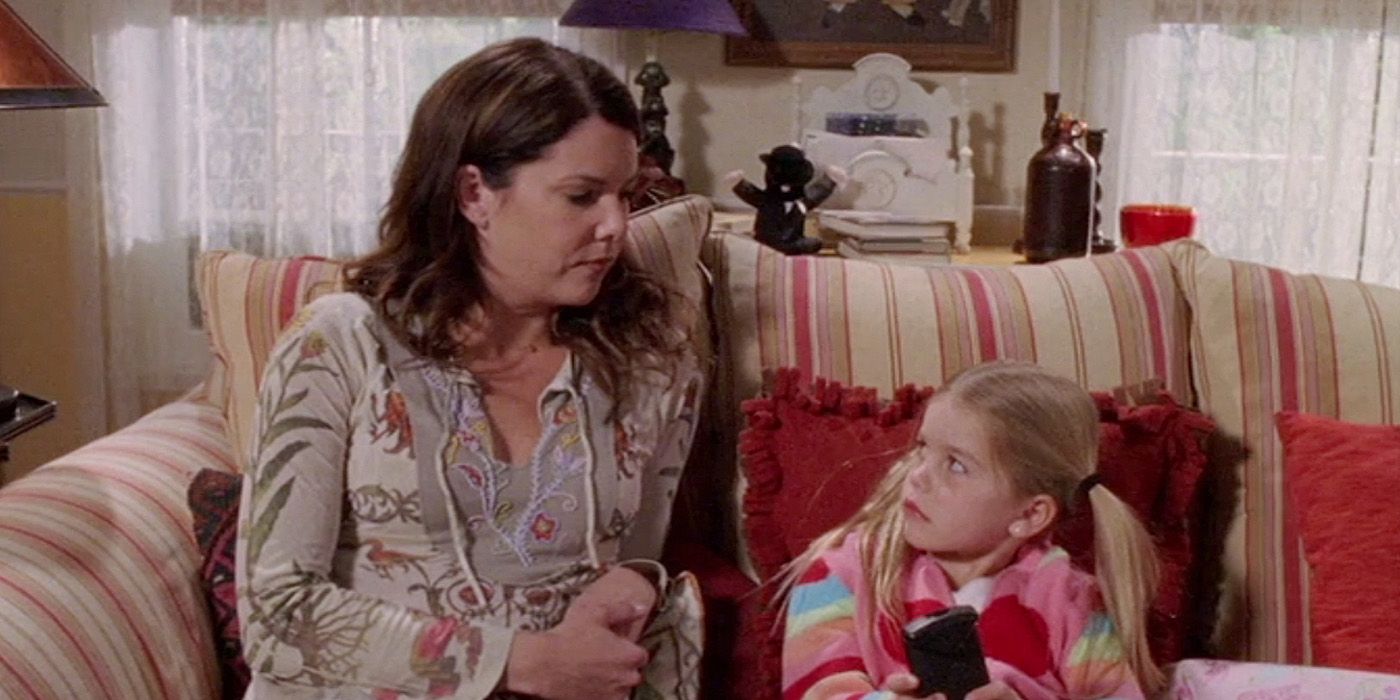 The snow conveniently stops for Rory's flight back to Stars Hollow from London, and it's an odd Christmastime. Lorelai and Christopher are married at this point and take care of G.G. together. Seeing Christopher and Lorelai with Rory and her half-sister is quite a sight.
RELATED: The 10 Best Speeches & Rants From Gilmore Girls, According To Reddit
Though it feels weird, it's also interesting to see what they all look like as a supposedly happy family. Luke asks Lorelai for a character reference so that he can still spend time with April. There's a lot of red and green, holiday shopping, and a surprise closing snowfall to the tune of "I'll Be Home for Christmas."
To Whom It May Concern
Season 7, Episode 12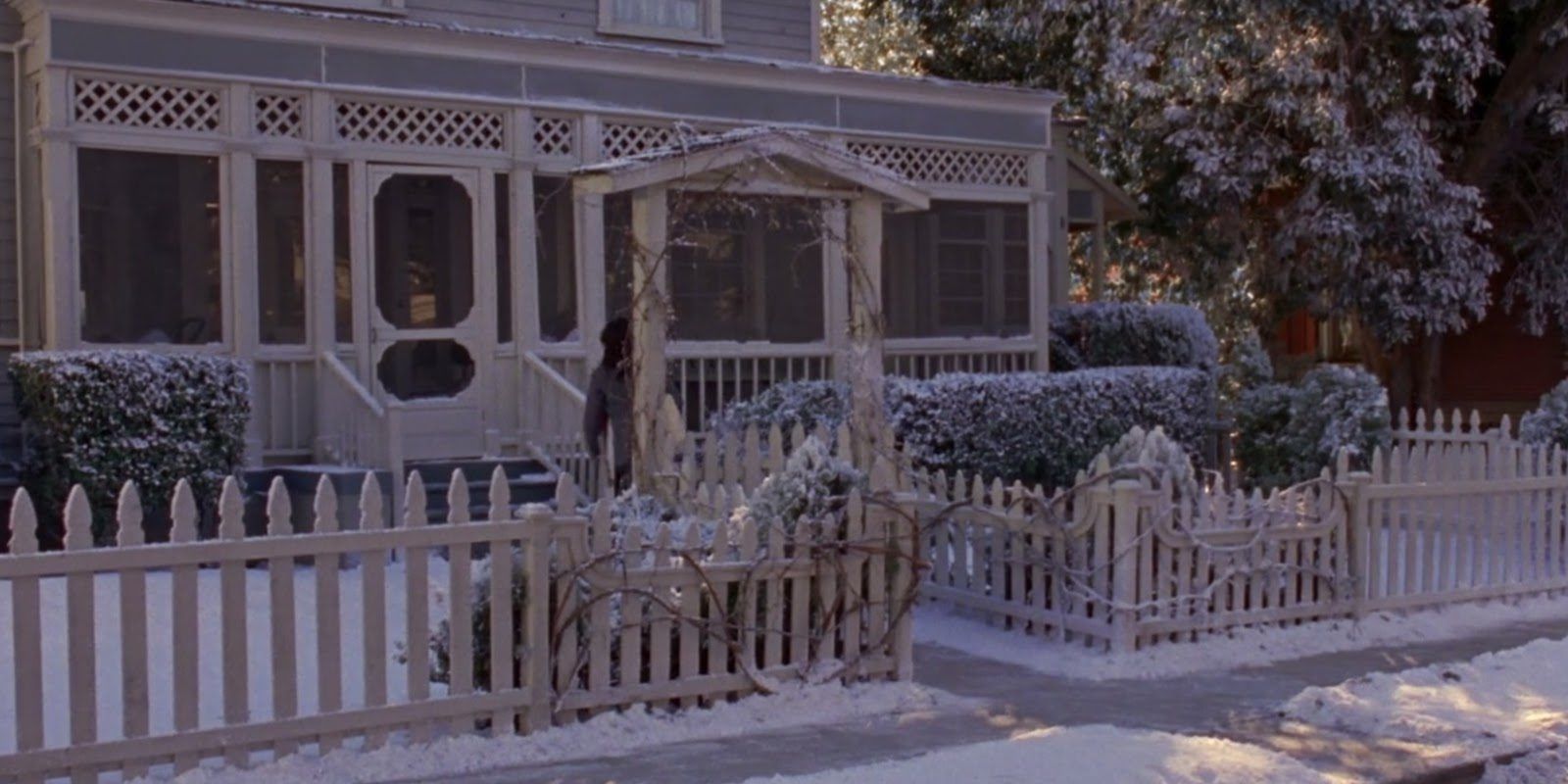 This classic episode proves that a snowy day does not guarantee peace, even in Lorelai's eyes. She volunteers to babysit Sookie's kids, but surprises are around every corner, blocking what Sookie had hoped would be a fun ski trip. While Rory is away settling into her final Yale term in New Haven, it's nice to see some snow on the ground on a beautiful day in Stars Hollow.
Continuing the drama, Christopher finds Lorelai's notes for Luke's character reference, which establishes an ending to his and Lorelai's marriage. While that is undoubtedly complicated in their world, fans can't help but see it as a good thing, since it means Lorelai is one step closer to where she belongs—with Luke.
Winter
A Year In The Life, Episode 1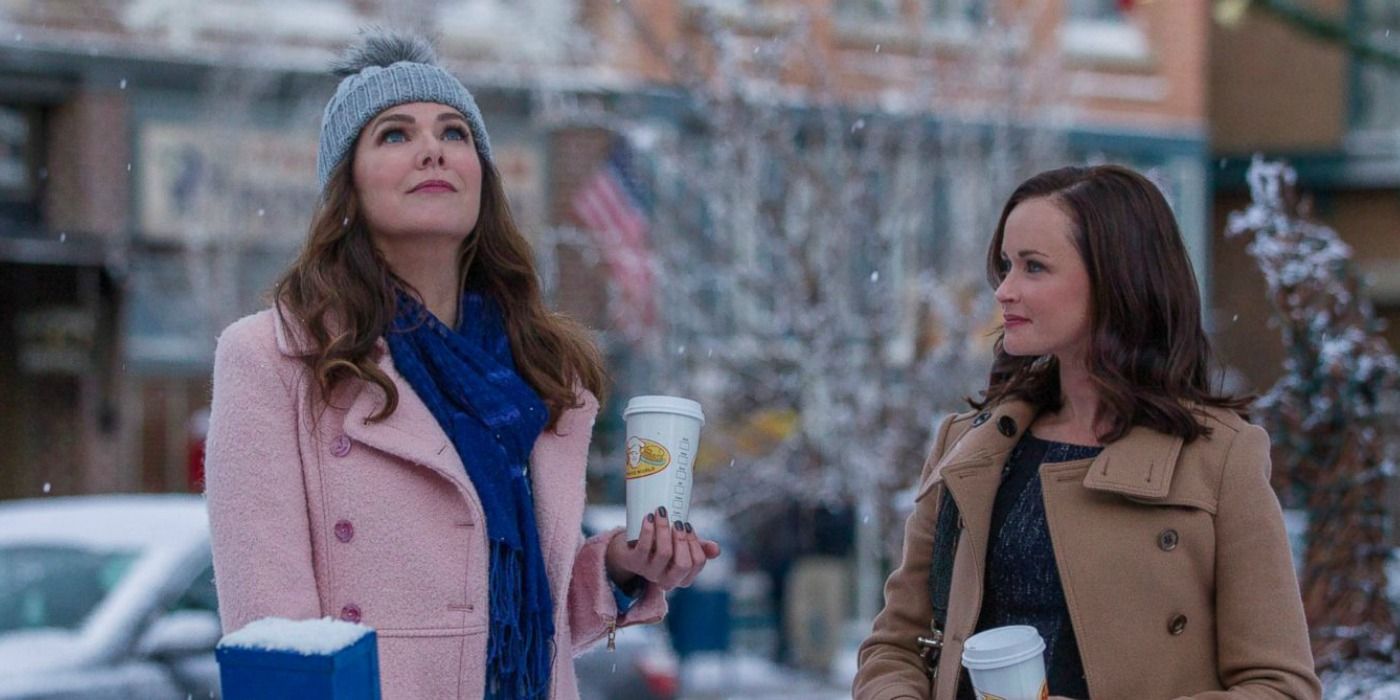 The first episode of Gilmore Girls since the show ended in 2007 focused on (and was titled) Winter, and it's one of the better episodes in the revival. While it spends a lot of time just catching audiences up on what's been happening the last decade, Stars Hollow is pretty much the same as always, except for a bit more technology.
Winter tends to be a time that permits more nostalgia than usual, so it works that so much has stayed the same in this first episode. If Lorelai didn't love snow or if Luke had given in to the tidal wave of cell phones, it wouldn't feel like the same old show. It also feels fitting that the tributes to Edward Herrmann's Richard would come in winter since his heart attack happened at a Christmas party in season one. Even for those who don't like the revival, "Winter" is a pretty great glimpse into all the best snappy dialogue and heartfelt moments of the original.