The Big Picture
Johnny Cash made a memorable guest appearance on Little House on the Prairie in the third season premiere episode, "The Collection," playing a character whose spiritual journey mirrored his own.
The episode deviates from the usual focus on Laura Ingalls and instead centers on Mary Ingalls, showcasing Melissa Sue Anderson's talent.
Cash's character, Caleb Hodgekiss, transforms from a heartless con man to a soulful citizen through his interactions with the townsfolk of Walnut Grove. The episode highlights Cash's ability to portray redemptive characters.
There hasn't been another television series quite like Little House on the Prairie. Running for eight seasons (plus an additional sequel season) on NBC through the 1970s and into the early '80s, Little House was executive produced, often directed by, and starred Michael Landon as the Ingalls family patriarch. Bridging the gap between being a Western and a Midwestern (if there even is such a thing), the series, just like the books it's based on, has been beloved for decades. But if there was one man who could steal the show from Michael Landon, who appeared in nearly every episode, it would be none other than Johnny Cash.
That's right, American country singer Johnny Cash made his way onto the third season of Little House on the Prairie for the premiere episode, "The Collection," playing a character who, in a way, mirrored the Man in Black's own spiritual journey. The episode aired on September 27, 1976, and was directed by Landon from a teleplay penned by Arthur Heinemann. As one of the highest-rated episodes of the series, there's a reason this one stands out, not just among Little House episodes, but among Cash's filmography itself. If you haven't watched this one in a while, now might be the time to revisit it.
What Is 'Little House On The Prairie'?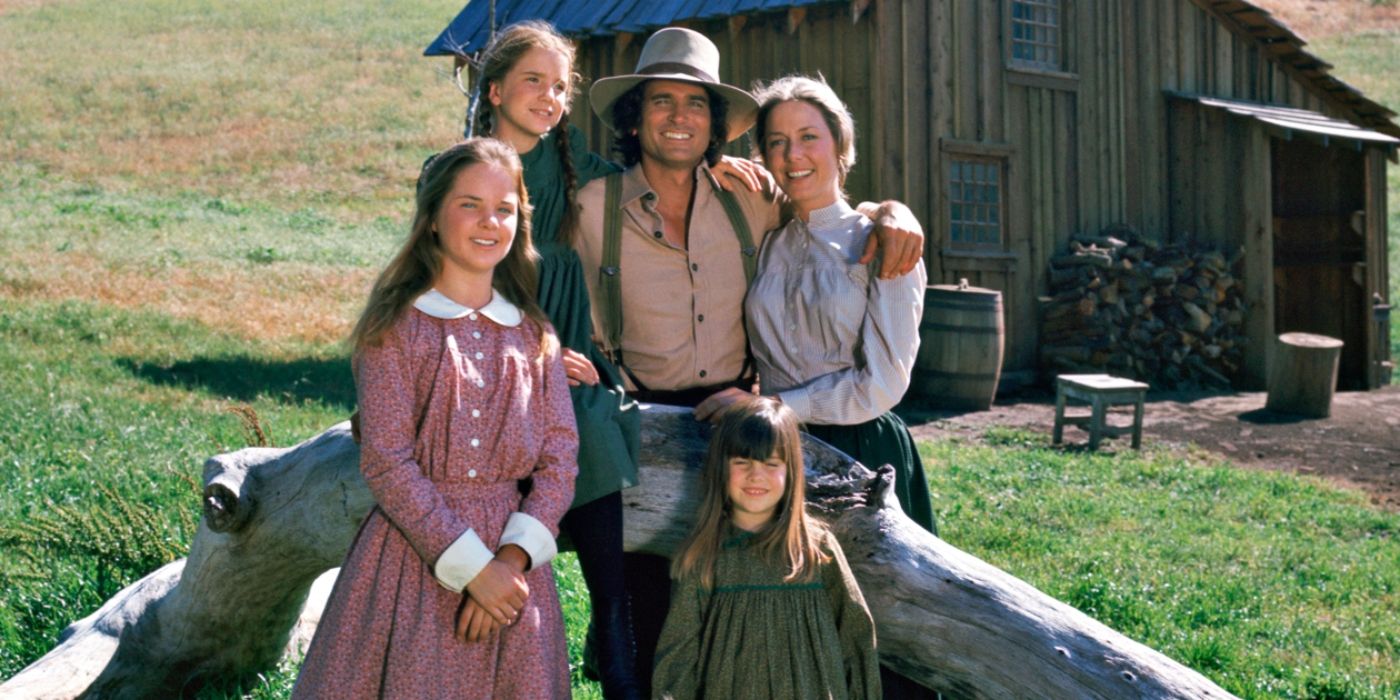 Based on the semi-autobiographical books written by Laura Ingalls Wilder, Little House on the Prairie centered on the Ingalls family consisting of "Pa" Charles (Landon), "Ma" Caroline (Karen Grassle), and their three daughters, Mary (Melissa Sue Anderson), Laura (Melissa Gilbert), and Carrie (Lindsay and Sidney Greenbush). As the Ingalls family settles on the prairie lands of Walnut Grove, Minnesota, they become pillars within their community, always vying to help those in need. While that's a general principle in most Little House episodes, it might be most well displayed here.
RELATED: From 'Stagecoach' to 'The Muppet Show': The Strange Filmography of Johnny Cash
As mentioned before, the series ran for a triumphant eight seasons before concluding in 1982, but even that wasn't the end for the Ingalls family. A short-lived sequel series, titled Little House: A New Beginning, aired the following year, centering on a grown-up Laura and her own family who have stuck around Walnut Grove after her parents have gone. Sadly, A New Beginning wasn't particularly well-received, and so Little House ended once again in 1983. Following the "ninth" season, three made-for-television movies were made to wrap up and officially conclude the Little House saga, including a Christmas special that aired in December 1984.
Though Laura is often the Ingalls sister at the center of each episode, "The Collection" deviates from the series' usual formula to focus on Mary, the eldest of the three children. In fact, Melissa Gilbert (who played Laura) hardly appears in the episode at all, and when she does show up in the end, she's sort of shoe-horned in. In many ways, "The Collection" stands out among the Little House chronology for being centered on Mary, who, especially during the show's earlier years, wasn't a main focus of the program. Thankfully, Melissa Sue Anderson shines here, even as she scowls at the Man in Black's deception.
So, What Happens In "The Collection?"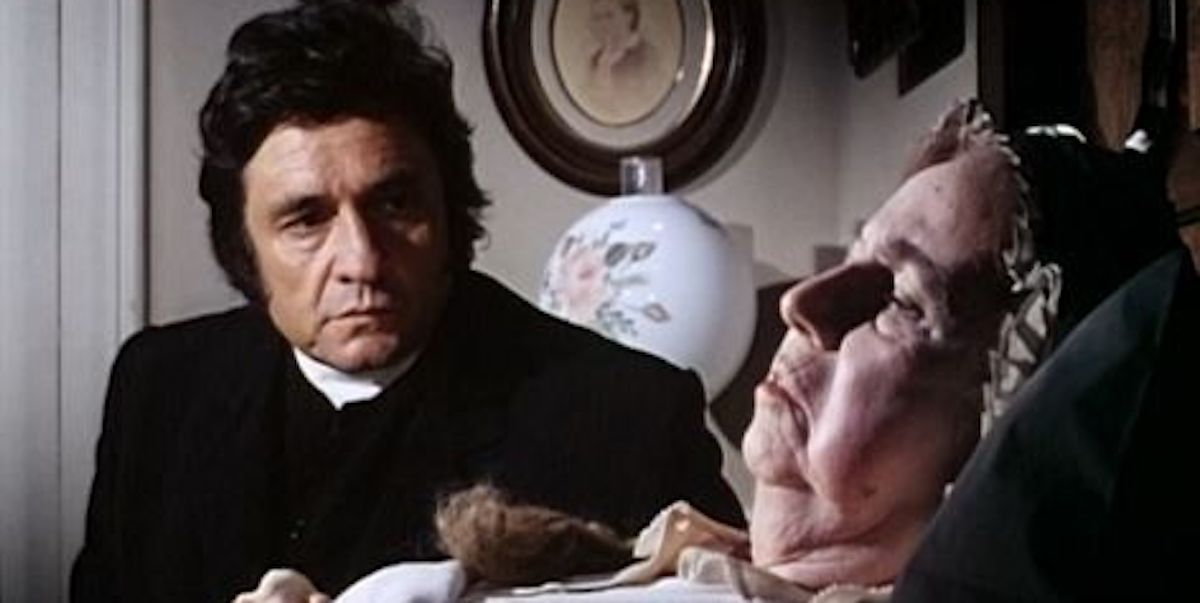 The Season 3 premiere, "The Collection," starts with Cash's character, Caleb Hodgekiss, saving the life of Walnut Grove's Reverend Robert Alden (Dabbs Greer), who was a real Congregational minister during the Ingalls time in Walnut Grove, and taking him home to his wife Mattie, played by none other than Cash's real-life wife June Carter Cash. But the Hodgekiss duo have fallen on troubled times, and though they're happy to help the minister get back on his feet, Caleb, himself an ex-con, soon comes up with a scheme to walk away a bit richer.
Before his accident, Rev. Alden was on his way back to Walnut Grove to collect donations from his congregation in an effort to help a nearby town that's fallen on hard times. Deciding to take the Reverend's clothes and pose as a minister, "Brother Hodgekiss," Caleb makes his merry way to the Ingalls' hometown, singing "Black Jack David" along the way. When he comes across Mary on the side of the road, she's more than willing to help him collect donations, and she parades the faux minister all around town.
But when it comes time to complete the con job, Caleb can't do it. Touched deeply by the generosity of the townsfolk, and their genuine love and appreciation for him, he nearly confesses his sins before Rev. Alden arrives. Having heard his near-confession, the Reverend publicly pardons and praises Caleb, thankful for his generosity to the people of Walnut Grove. With Mattie on his arm, Caleb leaves Walnut Grove behind, though it remains in his heart. From then on, Caleb Hodgekiss claims to be a changed man, and we can't help but believe that to be true.
Johnny Cash Excels As The Redemptive Outlaw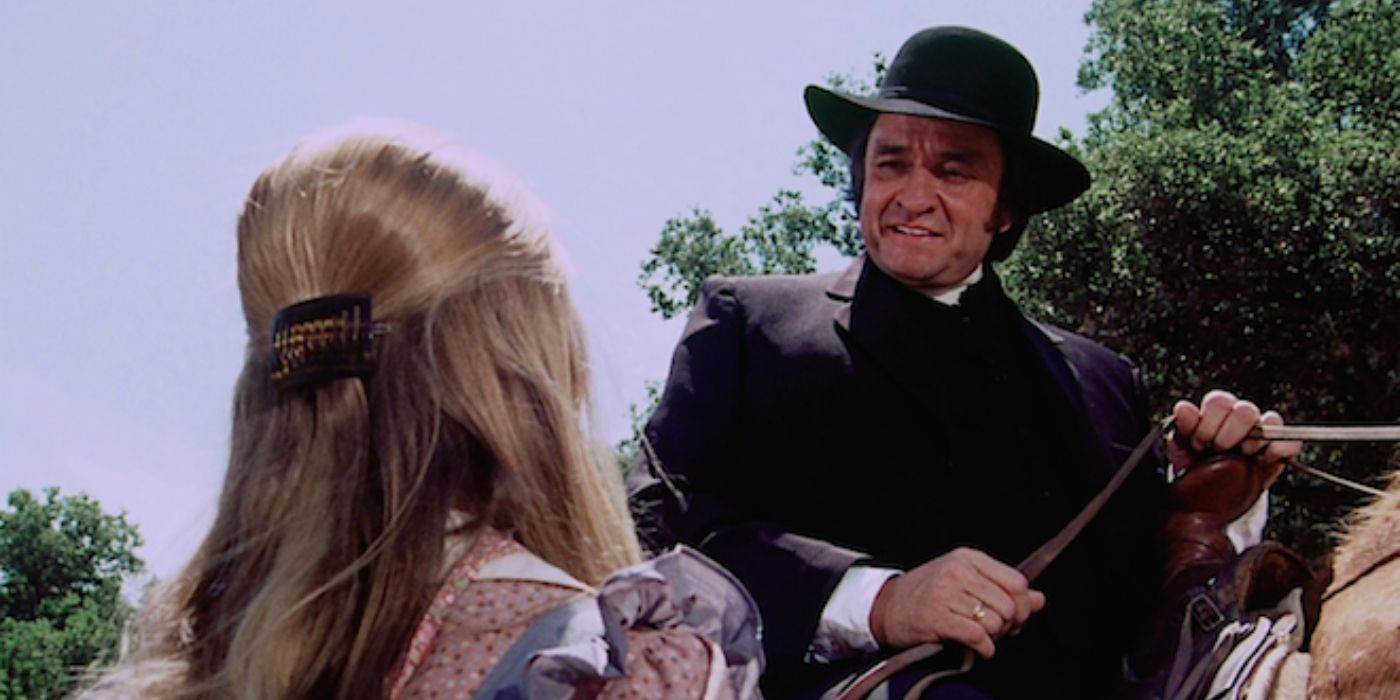 Keeping in step with his on-stage persona and battles with his own personal demons, Cash's character is a bit more layered than most Little House guest stars. A man down on his luck, Caleb Hodgekiss decides to put on a show as a pastor raising alms for the poor, only the poor in this case is himself. Interestingly, the little performance Caleb gives for his wife Mattie beforehand isn't how the rest of the episode plays out. Instead of acting the part of a minister, Caleb all but becomes one to the people of Walnut Grove and lives out the life he wishes could be his.
It's no secret that Johnny Cash struggled with alcohol abuse. The James Mangold biopic Walk the Line may depict the early years of his career pretty well, though it fails to elaborate on his own personal spiritual journey. "The Collection," though fictional, is a compelling shadow of Cash's own Christian walk, from outlaw to faith. By the end of this Little House episode, Caleb straightens his life out, and though his circumstances haven't changed, his outlook is much brighter. No wonder the same man who helmed the musical feature Gospel Road: A Story of Jesus and wrote a novel about the conversion of the Apostle Paul would thrive in a redemptive role such as this.
Caleb's journey from heartless con man to soulful citizen is a relatively quick one when you consider that he's only in town for a few days, but time is of no consequence. The battle for Caleb Hodgekiss' soul has been waged, and the townsfolk of Walnut Grove come out victorious. Cash, who almost feels like a fictionalized version of himself, plays this immaculately as he is touched as deeply by those he ministers to as they are by him. Be it by the goodness of mankind or the power of God himself, Caleb is changed, and by the end of the episode, he can no longer deny it.
'Little House' Was Happy To Have Johnny Cash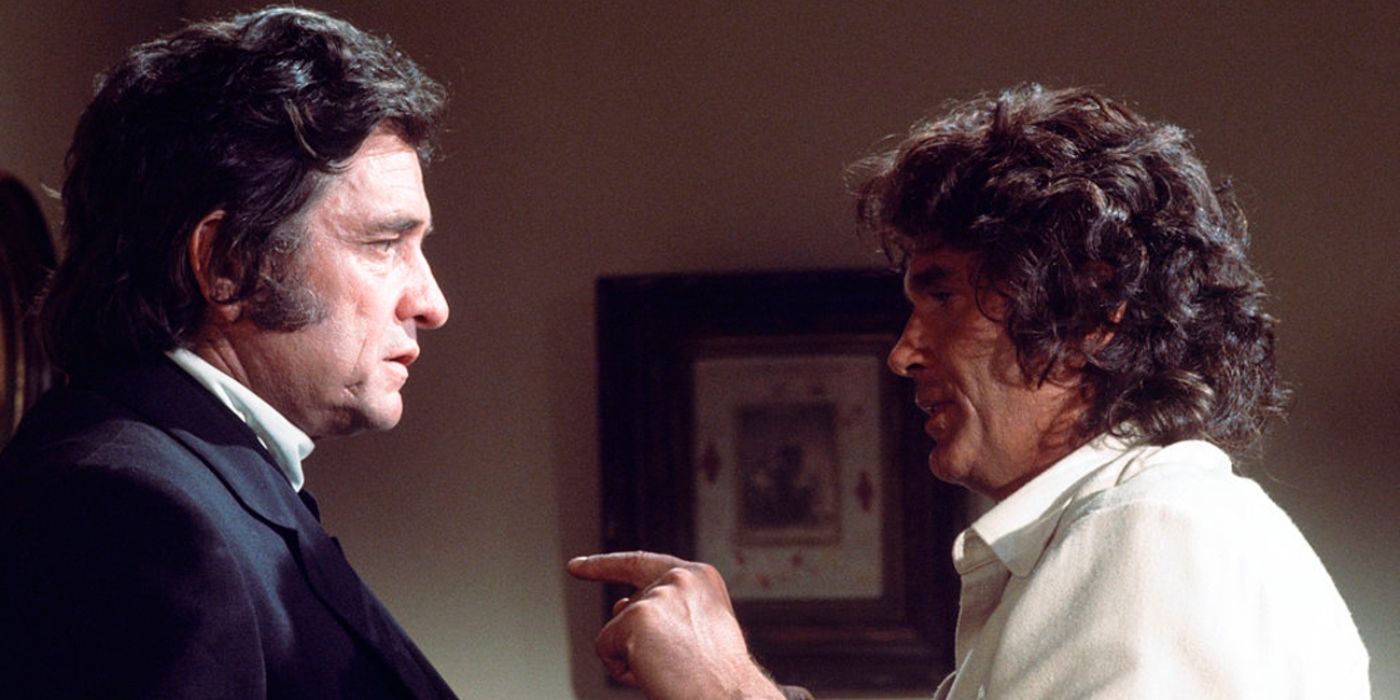 Years later, the cast of Little House spoke out about working alongside the Cash family. Karen Grassle, who only briefly shared a scene or two with Cash as Caroline Ingalls, noted in an interview with Closer Weekly that working alongside the Man in Black was a dream come true. When asked what her top showbiz moment was, she exclaimed, "[Working] with Johnny Cash and his wife, June, on Little House. I had been listening to his music since I was a kid!"
But Grassle wasn't the only one starstruck by the country singer. "Singers are almost always excellent actors," wrote Melissa Sue Anderson (aka Mary Ingalls) in her book, The Way I See It: A Look Back At My Life On Little House. "[June Carter Cash] did a terrific job, as did [Johnny Cash]. I was beyond excited to work with him, as I was featured in this episode and had almost every scene with him. … I loved this episode. I've always loved stories about grifters and con men, and being able to be a part of one was especially fun."
According to Anderson, Cash gave each member of the cast a copy of his 1975 autobiography Man in Black, which had just found its way to bookshelves everywhere. "His story in his own words," the subtitle reads. In his book, Cash expands on his childhood, his career, his struggles, and ultimately his Christian faith. But, despite being released in 1975, Cash's story doesn't end there. The artist continued to record music, most notably his American series of albums produced by Rick Ruben, until the day he died in 2003, but there was more to his artistry than just his unique vocals.
Johnny Cash Has An Extensive Filmography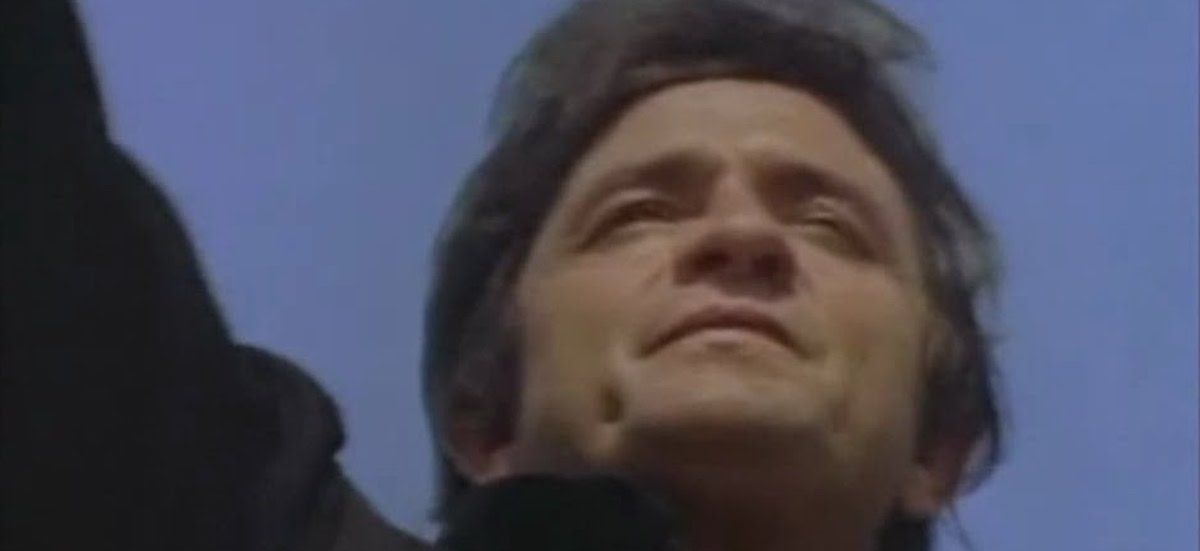 It may surprise some to learn that Cash has a pretty impressive filmography besides his one-time guest appearance on one of America's most beloved series. For a time, Cash was something of a movie star and a guest staple on network television. Appearing in shows like Wagon Train, Shotgun Slade, The Deputy, and Columbo, Cash proved his acting abilities by taking guest work before tackling a full feature film of his own, the 1961 crime drama Five Minutes to Live. From there, Cash starred in a variety of TV movies, and even played opposite Western legend Kirk Douglas in 1971's A Gunfight.
In the late 1960s and into the early '70s, Cash hosted The Johnny Cash Show, a musical-themed variety show that lasted 58 episodes on ABC. Aside from his large catalog of impressive guest stars, the Man in Black's show was notable because, as musician Graham Nash noted in the documentary The Gift: The Journey of Johnny Cash, "Johnny's show was all real, all the time." By his 1976 Little House episode, Cash was arguably at the height of his film and television career, though about a decade later, he'd land a new recurring role on television. Playing John Brown in North & South, a miniseries centering on the American Civil War.
Beyond this, Cash worked alongside fellow Highwaymen Kris Kristofferson, Willie Nelson, Waylon Jennings, and even John Schneider (a personal friend of the Cash family) to star in a remake of John Ford's Stagecoach. Additionally, he played Kid Cole in multiple episodes of Dr. Quinn, Medicine Woman, Frank James in The Last Days of Frank and Jesse James, and even played the uncredited narrator in William Friedkin's The Hunted, his last film role. No doubt, Cash was always busy making art, it's what he was born to do after all.
"The Collection," and every other Little House on the Prairie episode, can be streamed for free on Amazon's Freevee.