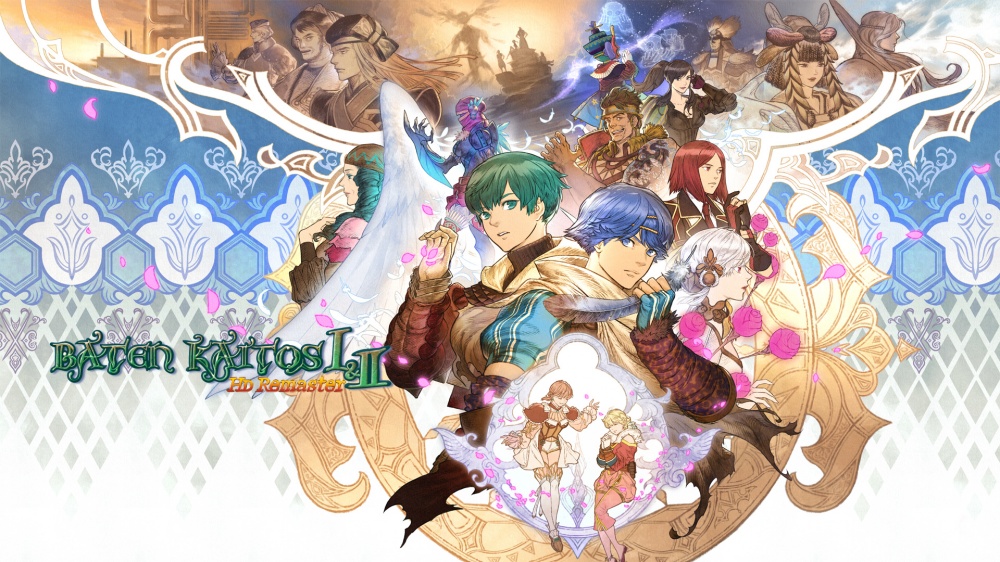 We recently had the chance to speak with Koji Nakajima, the producer of Baten Kaitos I & II HD Remaster. These classic RPGs originally launched during the GameCube era, and are now making a comeback after roughly two decades.
Nakajima spoke with us about why Baten Kaitos is returning now, what it was like working on the remasters, support from Monolith Soft, and more. You can read our full interview below.

It's been around two decades since the original Baten Kaitos game launched on GameCube. What were those initial talks like of bringing the series back and what ultimately led to the decision to release on Switch?
Up until now, my team has worked on remastered titles of previously released series, such as the Katamari Damacy series and the Klonoa series. As part of these remasters, we decided to develop one for Baten Kaitos, which was highly acclaimed and still has a strong fan base. This game was released on GameCube at the time, and to respect the connections of that time, we decided to release it on the Nintendo Switch.
What was the most challenging part of the project? Did the team encounter any specific difficulties given how long it's been since the games originally launched?
The first challenge was to gather information and development assets from that time. We searched both internally and externally with staff who knew about the development at that time and gathered everything we can.
Then we had to face another difficulty in getting what we had gathered to work properly on the latest hardware. It took a very long time to verify the results, and unexpected problems kept coming up during the development process. It was very difficult to solve them one by one. It was twice as hard because we were working on two titles, Baten Kaitos 1 and 2, haha.
However, thanks to the support of many people, we are ultimately able to release this title. I appreciate everyone who worked on the title, from the bottom of my heart.
While we know the content itself is the same, did the team implement any gameplay adjustments? What sort of work went into updating the graphics for both titles?
We did not adjust the gameplay, level design, or parameters in the game as we wanted to respect the experience of the time. Instead, we have added useful usability features such as game speed adjustment and enemy encounter cancellation.
For graphics, the main characters, battle backgrounds, and bosses have been re-modeled or brushed up from the original models, and the towns and dungeons which are expressed in 2D, have been remade in a higher resolution so that they can be displayed beautifully on the Nintendo Switch while keeping the original art materials. We have taken care not to destroy the atmosphere and image of the original game.
Also, since the game was originally a 4:3 game, many minor problems occurred when changing it to 16:9. We had to make sure to fix issues to have the best experience possible for players.
"New Game -" is an interesting feature that we haven't seen much in other games. How did that come about?
Nowadays, customers enjoy games in a variety of ways. For example, they set certain limitations when completing a game, or they challenge to complete a game as early as possible, etc. We have added a "New Game-" function to in order to support this user need. There is also a "New Game+" function that allows you to start the game from the beginning, carrying over the statuses at the time the game was completed, so we would be happy if you could enjoy Baten Kaitos in different ways.
What's your personal favorite quality of life improvement?
It is difficult to pick up just one of my favorite things because we have tried to work on a lot of improvements during development, from big ones to small ones. I think we have made it easy for our players to play and enjoy the game because we have made a lot of effort in small details, from basic areas such as graphics and performance to usability improvements and additional features.
Some fans were disappointed to hear that this release will only include Japanese voice acting even though an English dub was originally included in the original GameCube versions. Can you explain why Bandai Namco opted to go with Japanese voices only in the HD remaster?
In developing the remastered version, we tried to make adjustments on some of the expressions to match the current era. That's why we made the difficult decision not to use English VOs for this remastered version, due to the discrepancies that will happen.
Since Baten Kaitos Origins was originally published by Nintendo, did you need to work with the company in any way (such as obtaining rights) to make the new Switch release possible?
Since original titles were released on the GameCube and the remastered title on the Nintendo Switch, we have had great support from Nintendo throughout the project.
Has Monolith Soft been involved with this project at all?
The remaster is developed by a different studio, so Monolith Soft was not involved in this project. However, they supported us with information from the original game and gave us advice on the Remaster and tremendous support during the development of this game.
With Baten Kaitos now making a comeback after so many years and even director Yasuyuki Honne showing some interest in a third title, many are curious about the franchise's future. Is there any interest on Bandai Namco's side in making a brand new game in the series, perhaps if this HD release sells well?
There are no plans for a sequel currently. Our focus right now is to make sure that this great JRPG work created by great creators from our industry is well-remastered, delivered to our players, and be enjoyed all over the world.
Baten Kaitos I & II HD launches for Switch on September 15, 2023.