Prior to 2022, Courteney Cox (Friends) fans were more than used to her fantastic ability to walk the line between horror and comedy following her long-running stint as Gale Weathers in the Scream franchise. Given her great reputation in this niche genre, it was no surprise that her starring role in the horror-comedy series Shining Vale brought a huge audience to the show. After debuting in March 2022 to fantastic fanfare, the show grew a reputation for emphasizing just what made Cox so great in this genre and using her talents alongside a fantastic ensemble cast to delight audiences. The show is considered one of the most underrated comedies to watch right now, with fans rightfully shouting its praise whenever possible. Two months after its debut, Shining Vale was unsurprisingly renewed for a second season, with the closing moments of Season 1 beginning the countdown to Season 2. With time ticking ever closer toward that highly-anticipated second outing for the Phelps family, there has been plenty of speculation and news surrounding its arrival. So, with all of that in mind, here is everything we know about Shining Vale Season 2 so far.
When Will 'Shining Vale' Season 2 Be Released?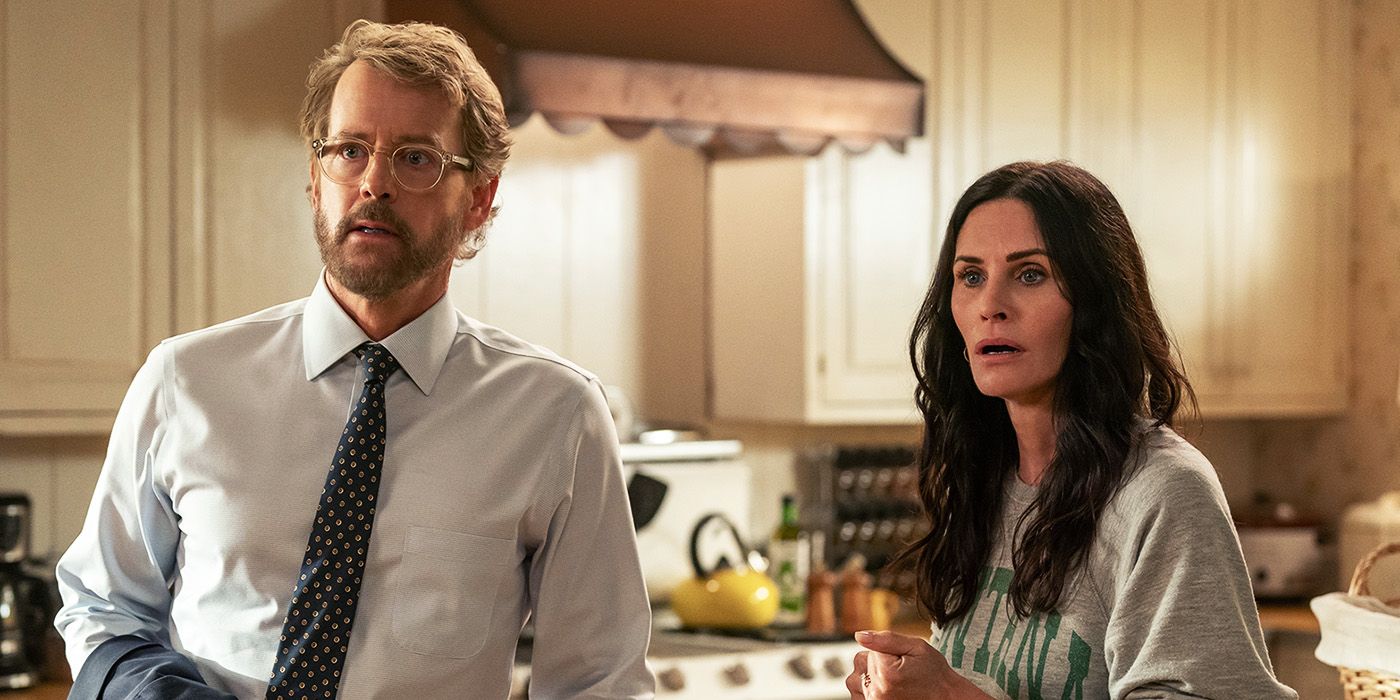 For a story that, at its core, involves the principles of horror storytelling, the initial March release date for Season 1 may have felt slightly out of season. Nevertheless, that minor issue is being rectified for Season 2, with Shining Vale's sophomore outing arriving just in time for spooky season. The official release date for Season 2 is October 13, 2023. However, this is no normal October 13, as it is also a Friday (the Thirteenth), which makes it the perfect day for a series like this to return.
Where Can You Watch 'Shining Vale' Season 2?
Just like Season 1, Shining Vale Season 2 will be debuting on Starz, with Episode 1 available from midnight ET on the aforementioned release date. The series will be available on the Starz app and on-demand. Following this, new episodes will be released every week on a Friday, with it unknown currently as to whether the first two episodes will be made available at once like Season 1, or if fans will have to wait. For UK fans of the show, the series will be available on Lionsgate+. Shining Vale Season 1 is also currently streaming on Prime Video and The Roku Channel in the US.
Is There a Trailer for 'Shining Vale' Season 2?
Unfortunately, as it stands, there is no trailer available for Shining Vale Season 2 yet. However, with just weeks left until the release of the upcoming season, it is likely a trailer will be on its way very soon, most likely this month. With that in mind, make sure to stay tuned to Collider for any and all Shining Vale updates, including the impending trailer release. In the meantime, here is a reminder of the trailer for Shining Vale Season 1 to get you in the morbid mood.
Despite the lack of a trailer, fans were treated to some first-look promotional images back in August which show the Phelps family under more demonic, and likely hilarious, stress. See those below:
Who Are the Creators of 'Shining Vale'?
Shining Vale doesn't just boast a fantastic on-screen ensemble, but a talented off-screen one too. The series was created by Jeff Astrof (Partners) and Sharon Horgan (Bad Sisters), who also executive produce the series alongside Clelia Mountford; Aaron Kaplan (The Chi), and Melanie Frankel. In addition to starring, Courteney Cox is also a producer on the series.
How Many Episodes Does 'Shining Vale' Season 2 Have?
Just like Season 1 of the show, Season 2 will run for eight episodes in total, which should give fans more than enough Phelps family content to sink their teeth into this Halloween.
Related:'Shining Vale': Courteney Cox Is a Writer Struggling With Real Demons in First Images of Starz Horror-Comedy Series
Who's In the 'Shining Vale' Season 2 Cast?
Fans were treated in to a stellar cast in Shining Vale Season 1 firing on all cylinders, with the ensemble performances certainly a highlight from the opening season. With that in mind, there was plenty of hope from within the fan base that a just as strong or perhaps even stronger cast would take to the screen in Season 2. Those prayers were answered, with pretty much the entire cast from Season 1 returning. This includes the likes of Courteney Cox as the brilliantly realized horror author Pat Phelps, Greg Kinnear (Black Bird) as Terry Phelps, Dylan Gage (Stranger Things) as Jake Phelps, Gus Birney (I'm Thinking of Ending Things) as Gaynor Phelps, Mira Sorvino (Mighty Aphrodite) as Rosemary Wellingham, Merrin Dungey (Alias) as Kam, Sherilyn Fenn (Twin Peaks) as Robyn Court, Judith Light (The Menu) as Joan, Alysia Reiner (Sideways) as Kathryn, Derek Luh (Runaways) as Ryan He, and Susan Park (Fargo) as Valerie He. Not only will there be familiar faces in Season 2, but, just as any great series does with a second season, new additions to the cast have been made as well. Although we don't know for sure exactly how many new faces we will see, we do know that Allison Tolman (Krampus) will be joining the cast in an unnamed role.
What Will 'Shining Vale' Season 2 Be About?
Season 1 of Shining Vale certainly left a lot to be answered in Season 2. With that in mind, and with some plot news having been released, we can deduce to a fair extent what can be expected from Season 2. After Pat's admission to the hospital following an axe-wielding attempt on her husband's life, Season 2 begins four months after she was released. Given the wild events of Season 1's finale, tensions are likely high between the Phelps gang, as cracks in their dynamic are larger than ever and likely even more difficult to repair. Also, the date-based mystery surrounding Rosemary's history is likely to drive much of Season 2's plot, with many more questions left to be answered and, more importantly, even more morbid hilarity to ensue.